Rotary feeders, also known as rotary airlocks or rotary valves, are commonly used in industrial and agricultural applications as a component in a bulk or specialty material handling system. Rotary feeders are primarily used for discharge of bulk solid material from hoppers/bins, receivers, and cyclones into a pressure or vacuum-driven pneumatic conveying system. Components of a rotary feeder include a rotor shaft, housing, head plates, and packing seals and bearings. Rotors have large vanes cast or welded on and are typically driven by small internal combustion engines or electric motors.
At cellesluser.dk we produce Rotary feeders that can be used for eg stoker furnaces and ventilation systems. As we design and manufacture our parts ourselves, we also produce custom made products at a relatively short notice.
Rotary feeders, transitions, spare parts and accessories for many purposes. Danish produced in proven quality. Top quality spare parts. EDPM rubber type rubber blades, which are characterized by being extremely flexible and can withstand both high and low temperatures.
See our selection of Rotary feeders here:
If you need a small and compact lock, the Q-16 with a capacity of 3.3 m3 / hour is perfect for you.
If you need a slightly larger capacity we can recommend our Q-20 which can handle 7.1 m3 / hour.
With a capacity of 13.4 m3 / hour, the Q-24 is our second largest lock.
For the big tasks, our Q-30 can handle a full 30 m3 / hour.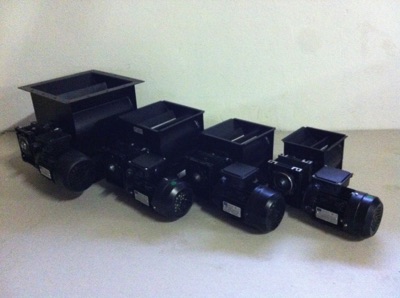 Thus, it should be possible to find a lock for most stoves and ventilation systems or whatever else you may need.
See also our selection of different transitions and connections to the locks right here….
All prices are quoted excluding VAT. Subject to price changes, printing errors etc.