A cable entry is a safe and elegant solution that fits most buildings. It is easily adjusted to the wall thickness and provides a stylish and secure cable entry that can be locked if desired. It is made of stainless steel and can be delivered painted in the desired color to suit your specific needs.
For example the cable entry can be mounted in an outer wall or through a firewall. Perfect where doors should be kept closed at all times. Our entry is especially popular where temporary wiring is often needed. Fx venues og concert halls with occationally tv-productions.
Here is a selection of our cable hooks, entry and cable holders. Contact us to find out more and get the product that suits your needs.
Cable hooks
Cable hooks from cellesluser.dk is a discreet and secure solution for hanging temporary cabling up and away from the floor area. No cables are in the way of opening doors or making traffic on floors and corridors difficult.
Hooks, holders and extensions fit perfectly with our cable entry, so all cables can be safely pulled through fire doors and firewalls, while keeping away from the walkway. Therefore, use our cable locks for re-routing cables and hangers to keep the cables away from the floor. A safe solution for everyone.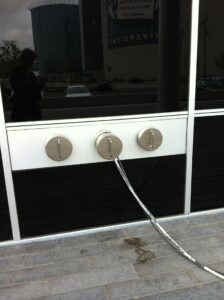 Theese cable entries i mounted in the outer wall of Musikkens Hus in Aalborg Denmark.